General
No, but you can relax in our textile-free area wellness & relaxation pool.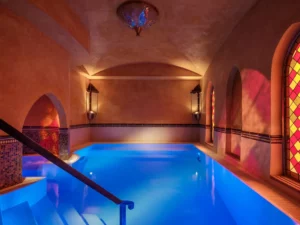 In our hotel there are exclusively non-smoking rooms.
Yes, we have barrier-free rooms, which are directly accessible with our elevators
. accessible with our elevators. Please request these rooms directly from our reservation team at info@sonne-frankenberg.de.
SonneStuben | Beloved tradition
In the good parlor of Frankenberg, the people of Frankenberg and the hotel guests meet for dinner, with new local cuisine. Timo Schröder, head chef of all SonneFamillie establishments, was awarded a "Bib Gourmand" by the Guide Michelin. Chef de cuisine in the SonneStuben is Markus Willich. In the SonneStuben, the fresh ingredients mostly come from the Ederbergland - and you can taste it.
Philipp Soldan | Fine natural pleasure.
Erik Arnecke's nature-oriented gourmet cuisine stands for high-quality and original products, lightness, openness, transparency and a clear reference to the region. In doing so, he combines modern with traditional elements. He was awarded 17 points and 3 toques by Gault&Millau and 1 star in the Guide Michelin.
Yes, please contact our event team:
Tel. 06451 74 232 50
E-Mail  veranstaltung@sonne-frankenberg.de
Monday - Friday
07:00 - 10:30
Saturday, Sunday & Holidays
08:00 – 10:30
Due to increased demand in our restaurants, we recommend making table reservations in advance.
SonneStuben | Book Table
Philipp Soldan | Book Table
Dogs are welcome at the hotel "Die Sonne Frankenberg". We have a dog basket and bowls ready for your animal darlings. Only the spa area and the restaurant Philipp Soldan they are not allowed to visit. For the SonneStuben restaurant, we ask that you leave your dog in the room for breakfast. At dinner we also recommend this, but if necessary you can bring your dog with you if it behaves quietly. Please only give us advance information here for table planning. Per dog we charge € 25,00 per day.
Spa applications
Wednesday - Sunday
09:00 – 18:00 *
*Start of the last application at 17:30
Sauna
Monday - Sunday
15:00 – 20:00
Fitness area
Monday - Sunday
08:00 – 20:00
Kids Spa
10:00 - 13:00
Arrival | Departure | Parking
Your room is ready for occupancy from 15:00. You are welcome to arrive earlier, we will be happy to store your luggage until your room is ready for occupancy.
Check-out is possible until 11 am - noon on the day of departure.
Please contact the hotel team before the day of departure. A later check-out is always dependent on the occupancy on site.
Check-out until 14:00 - 50,00 €
Check-out until 17:00 - 79,00 €
We are happy if you would like to stay longer with us. Please contact the reception before 11 am on your departure day.
While you are a guest at Sonne Frankenberg, your electric car refuels free of charge at our charging stations. All Tesla models as well as any other electric car can be charged free of charge and conveniently with us.
We have free parking spaces directly at our house. Alternatively, you are welcome to park in our underground parking lot, which is located within walking distance.