ACTIVITIES
 Active around Die Sonne
ACTIVITIES
Die beliebtesten
Aktivitäten in Hessen
Die Umgebung rund um Frankenberg in Hessen bietet Möglichkeiten für zahlreiche Aktivitäten und Ziele für Tagesausflüge. Das Ederbergland mit dem UNESCO-Weltnaturerbe Nationalpark Kellerwald-Edersee machen Sport und andere Aktivitäten – im Wasser oder an Land – zu einem einmaligen Landschaftserlebnis.
Unser Hotel Die Sonne Frankenberg bietet Ihnen den idealen Ausgangspunkt für Ihre Tagesausflüge und Aktivitäten am Edersee sowie anderen Teilen Hessens. Sprechen Sie uns an – wir zeigen Ihnen die schönsten Plätze. Und das Beste daran: Bei vielen Aktivitäten, die Sie in Hessen unternehmen, sammeln Sie Punkte in unserem Sonne Explorer Pass und wir pflanzen für jeden gesammelten Punkt einen Baum.
Golfplatz Waldeck
Weimarer See
Diemelsee
Twistesee
Edersee
MTB ZONE Bikepark Willingen
Farm Wallachei Bad Berleburg
GeoFoyer Kalkturm
Summer toboggan run Edersee
Frankenberg Game Park
Climbing Forest Marburg
Forest sofa Friedrichshausen - Knebelsrod
Slate mill with Eder bridge - Rennertehäuser Aue
Herrenbänke - Christenberg circuit from Frankenberg
Frankenberg City Park - Ride through the Nuhne River
Lake Edersee round trip from Vöhl-Herzhausen
Extra tour Nuhnehöhenweg
Ederhöhenweg from Frankenberg to Battenberg
Hagenstein route to gnarled beeches
Urwaldsteig Singletrail – Knorreichenstieg
Runde von Vöhl
Frankenberg point of view
Thonet Museum
Steinhaus Frankenberg
Liebfrauenkirche (Church of Our Lady)
Monastery St. Georgen
Historic city hall
Reisen mit Young- & Oldtimer
Die schönsten Radtouren in Hessen
Die schönsten Golfplätze
Top Sehenswürdigkeiten in Hessen entdecken
Die beliebtesten Aktivitäten in Hessen
Der Edersee – Wandern in wunderschöner Umgebung
Sportliche Aktivitäten an Land inmitten Hessens Natur
Wandern und Biken im Ederbergland
In Hessens Ederbergland können Sie wunderbare Tagesausflüge mit dem Fahrrad oder zum Wandern unternehmen. Der tiefblaue Edersee sowie der Nationalpark Kellerwald-Edersee bieten Ihnen etliche Routen in allen Schwierigkeitsgraden. Stille Waldhöhen und faszinierende Wildnis laden zu vielfältigen Wanderungen und ausgedehnten Touren mit dem Mountainbike, dem Trekking- oder Rennrad ein. Hierzu empfehlen wir Ihnen die schönsten Wanderungen und Fahrradrouten mit dem Wanderrucksack der Sonne in der Umgebung.
Nationalpark Kellerwald-Edersee
Von unserem Hotel in Hessens Frankenberg können Sie perfekt einen Tagesausflug zu einem der umliegenden Golfplätze starten. Besonders die Golfplätze Marburg/Cölbe, Waldeck und Winterberg sind sehr empfehlenswert, denn sie bieten zahlreiche Schräglagen und natürliche Wasserläufe. Perfekte Bedingungen für ein abwechslungsreiches und spannendes Spiel – inklusive traumhafter Aussicht. Die Plätze mit ihren unterschiedlichen Niveaus bieten Ihnen optimale Voraussetzungen für die Verbesserung Ihres Stils.
Wintersportaktivitäten in den Bergen Hessens
Ski, Ski Alpin, Snowboard, Langlauf und Rodeln. All das können Sie in der verschneiten Märchenlandschaft Nordhessens genießen. Nutzen Sie die Angebote des Winterparks Willingen, der Snow World Züschen oder des Skiliftkarussells Winterberg.
Überzeugen Sie sich selbst von der wunderschönen Winterlandschaft des Ederbergland – auf der Piste, der Loipe oder bei einem herrlichen Spaziergang auf den Winterwanderwegen.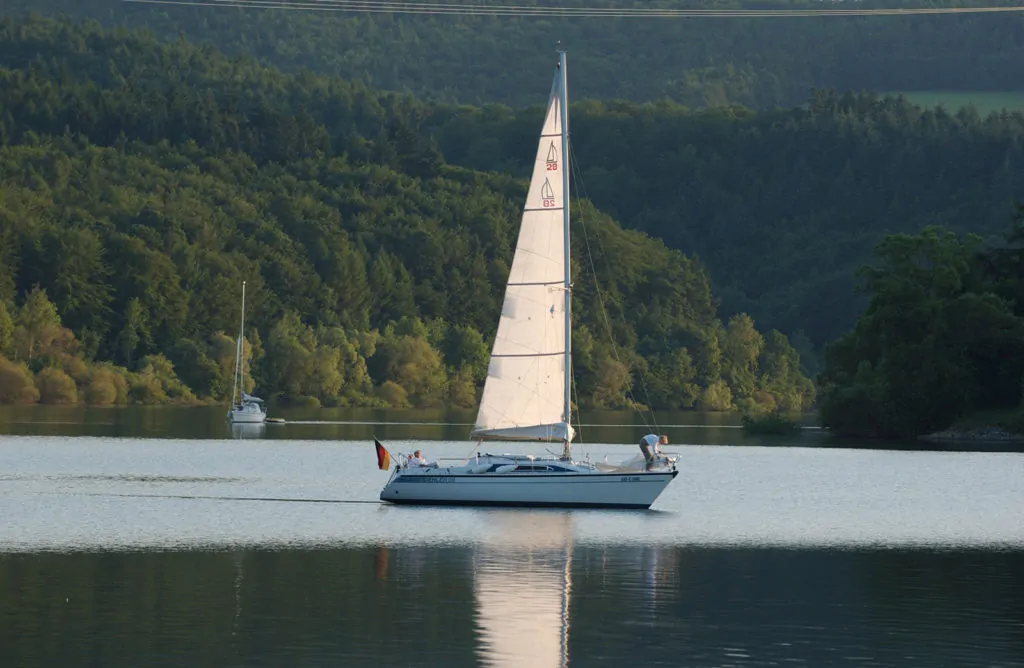 Segeln, Boot- & Schifffahrt
Der Edersee lädt mit seinem klaren Wasser zu Tagesausflügen und vielen Aktivitäten ein. Aufgrund der Wind- und Wetterverhältnisse und des traumhaften Ausblicks auf den Nationalpark Kellerwald-Edersee können Sie hier traumhaft segeln, Boot oder Schiff fahren. Besuchen Sie doch einen Segelkurs oder chartern Sie sich ein Elektroboot. Eine Ederseerundfahrt mit dem Schiff ist ebenfalls eine tolle Aktivität für Ihren Tagesausflug zu Hessens größtem Stausee.
Kanufahren
Erleben Sie ursprüngliche Natur aus ungewohnter Perspektive bei einer Kanufahrt auf unserem Edersee. Natürliche Ufer, Auwälder und die zu sehende Landschaft zeichnen diese herrliche Gegend aus. Der Edersee bietet als zweitgrößter Stausee in Deutschland große Abwechslung.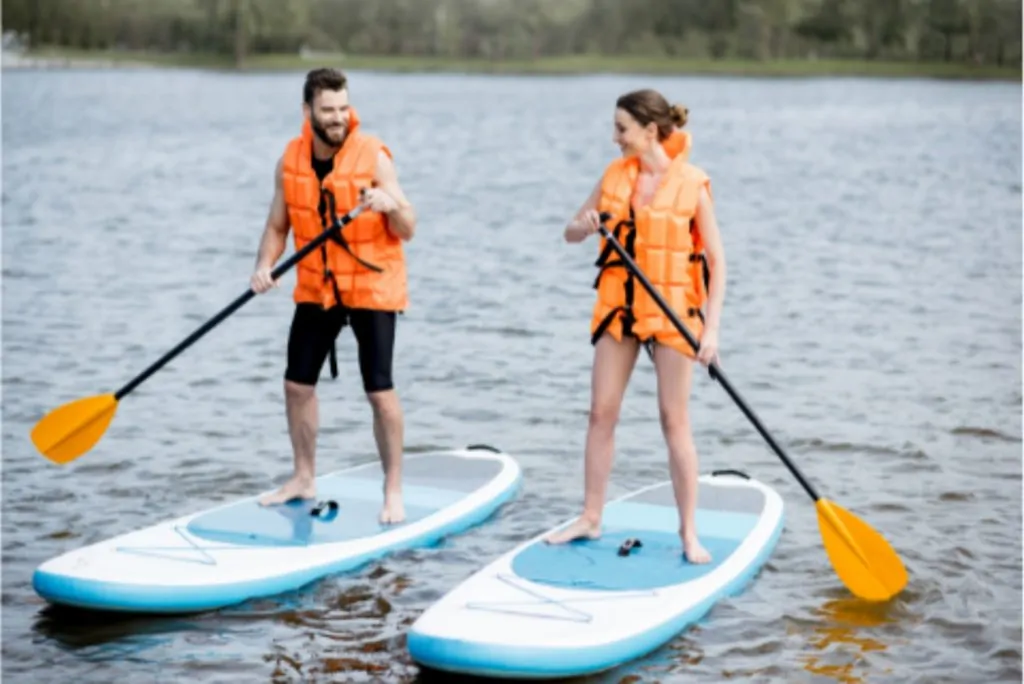 Surfen, Wind-Surfing, Wasserski und Stand Up Paddling
Der Edersee bietet ideale Voraussetzungen für Wasseraktivitäten. Gehen Sie surfen, lernen Sie in der Windsurfschule das Windsurfing kennen, genießen Sie den Ausblick auf die Natur beim Stand Up Paddling oder lassen Sie sich auf Wasserskiern durch Hessens Edersee ziehen. Diese Aktivitäten garantieren Spaß für Groß und Klein.
Darüber hinaus können Sie am Edersee hervorragend angeln und sogar im Edersee auf Tauchgang gehen.
Weitere spannende Aktivitäten
für Ihren Hessen-Urlaub
Die Region um unser Hotel in Frankenberg bietet Ihnen viele weitere tolle Ziele für einen Tagesausflug während Ihres Aufenthalts in Hessen. Exemplarisch folgen einige Ziele, die sie ebenfalls in unserem Sonne Explorer Pass finden. Für diese Unternehmungen können Sie Punkte sammeln und wir pflanzen im Gegenzug Bäume.
Tierfreunde werden sich sicherlich über einen Besuch eines Wildparks freuen. Den Wildpark Frankenberg erreichen Sie von unserem Hotel in weniger als einer halben Stunde Fußweg oder innerhalb von 5 Minuten mit dem Auto und können dort verschiedene Tiere hautnah im Wildpark Edersee erleben.
Der Kletterwald in Marburg ist ein schönes Ziel für einen Tagesausflug in Hessen mit der ganzen Familie. In diesem Hochseilgarten erwarten Sie Parcours in unterschiedlichen Schwierigkeitslevels, sodass vom Einsteiger bis zum erfahrenen Kletterer jeder auf seine Kosten kommt.
Ein weiteres Highlight unter den Aktivitäten in Hessen ist die Sommerrodelbahn Edersee. Ein Besuch lohnt sich, denn neben schnellen Abfahrten haben Sie die Möglichkeit auch andere lustige Aktivitäten, wie unter anderem Lasertag und Erlebnisgolf, zu unternehmen.
Tagesausflüge in Hessen ab dem Hotel Die Sonne Frankenberg
Von unserem Hotel aus können Sie optimal zu spaßigen Aktivitäten in Hessen aufbrechen. Ihnen fehlt noch das passende Ziel? Sprechen Sie uns gerne an. Wir empfehlen Ihnen gerne weitere Ziele für einen Tagesausflug in Nordhessen. Erholen Sie sich nach einem erlebnisreichen Tag in unserem Sonne Spa, lassen Sie sich in einem unserer Restaurants verwöhnen und fallen Sie in Ihr bequemes Bett in einem unserer gemütlichen Rooms. Finden Sie das passende Arrangement für Ihren nächsten Aufenthalt in Frankenberg. Wir freuen uns auf Ihren Besuch!
Arrangements
This might interest
you as well